Ad blocker interference detected!
Wikia is a free-to-use site that makes money from advertising. We have a modified experience for viewers using ad blockers

Wikia is not accessible if you've made further modifications. Remove the custom ad blocker rule(s) and the page will load as expected.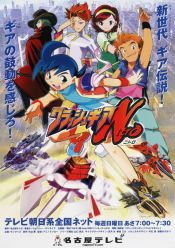 Crush Gear Nitro (クラッシュギアNitro, Kurasshugia Nitoro) is an anime series produced by Sunrise, spanning 50 episodes. It is aired on TV Asahi from February 2, 2003 to January 25, 2004. It is a sequel to Crush Gear Turbo with entirely new characters, Crush Gears and storyline.
The story revolves around Masaru Mahha, a 5th grader who loves Crush Gear, but do not have a Gear to play. When Masaru and his family moved into a new town, he saw Gear Fights are used to solve disputes through a hero, Crush Kid and his Gear, Garuda Phoenix. Masaru accidentally participates in the Gear Fight using Garuda Phoenix and wins the game, marking the beginning of his life as a Gear Fighter.
Main article: List of Crush Gear Nitro episodes
Characters
Edit
Main article: Category:Characters (Crush Gear Nitro)
Original story - Hajime Yatate
Director - Tetsuro Amino
Series Composition - Ryota Yamaguchi
Original Character Design - Kazuhiro Soeta
Animation Character Design - Takamitsu Kondo
Main Mechanical Design - Susumu Imaishi, Masakatsu Saito
Art Director - Yukiko Ogawa
Color Design - Tomomi Murakami
CG Supervisor - Masayoshi Obata
CG Chief Director - Manabu Ono
CG Producer - Takashi Imanishi
Sound Director - Sadayoshi Fujino
Music Producer - Hitoshi Yoshimura, Noboru Mano
Producer - Takashi Imai, Asami Kohara
Theme songs
Edit
External links
Edit